The Light Bommerangs are a second weapon within  The Snake Temple that is hidden  somewhere.  Its also related to the legendary weapon the  Spear Of Light .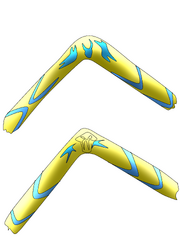 where to find the boomerangs
(will be added soon)
The Legend
(will be added soon)
both weapons of light
(will be added soon)
Boomerangs Upgrade
Locations
Trivia
(will be added soon)
Art Gallery
External links
Ad blocker interference detected!
Wikia is a free-to-use site that makes money from advertising. We have a modified experience for viewers using ad blockers

Wikia is not accessible if you've made further modifications. Remove the custom ad blocker rule(s) and the page will load as expected.