Rilux Approaching
WARNING! WARNING! CODE RED! This article is in need of more information...
The Article Deven Artim, needs more information. As such, sections are incomplete at this moment and will be filled as time goes on. (Mission objective: Complete page and sections)
"put the weapon down son..."
-Deven
Deven Artim is a perfectly trained  super soldier and a teacher to most new recuits in the unit. He is also a father of his beloved son, Ben who was diagnosed with Leukemia and passed away. Deven is the oldest of the crew and wants to keep everyone safe from harms way, even sicknesses. He's shown to be a valuable asset within his duties and outside of the unit.
History
Background
Deven artim is consider one of the best soldiers within the
Gunma Core
and is a good friend of
Marshall Alexander
and is a teacher to his students and the academy.
Gunma (comic series)
Rilux Saga
First attack
Rilux invasion
Zantella arc
Rise of the Zentinals
Appearance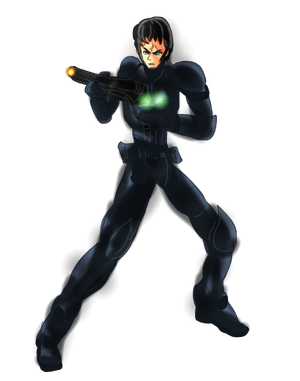 Personality and Traits
Deven has a bold nature, he is confident in his duties as a father and a soldier/wingman. He is known for his calm sense of patience in any situation. Skilled in almost every area known in the unit with weapons and armory, he is known for training new recruits or new soldiers. Deven himself, likes to be there for whoever is in need of help or reassurance. He likes to work on writing as a hobby. He also doesn't mind going to schools and watch over children who have disabilities, teaching them or helping them, he likes to be around others.
Deven himself, being the first and also oldest in the group is one of the best, to not let down or even think of letting him off the team.
Strength(s)
Weakness(s)
Gunma comic and anime
Gunma (Game)
Role
Gallery
Main Article: Deven Artim/Gallery
Other information
Likes:
Dislikes:
Hobby:
Diet:
Other appearances
Gunma RPG
Gunma Academy
Trivia
Deven is few of the characters in the gunma series get a redesign few or more times in a row.
Deven is a good shot with a sniper rifle, hiting the targets directly in their weak points
Deven is the oldest of the crew and worked with Kimberly's parents."
Deven treats Marcus Elliot  and Kenneth Star  like they were his own two sons.
He takes Marcus Elliot in the unit.
Deven must know to relax, even such a good soldier like him needs to stop at some point in his life.
External Links